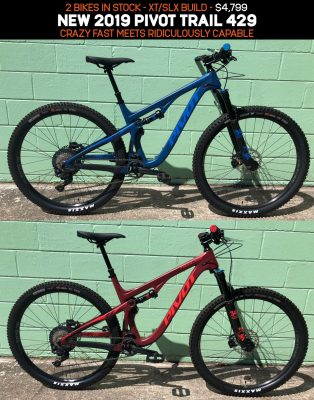 Great Prices on Great Bikes.
This page is updated regularly, but our inventory changes by the hour.
Please call us a 352-327-3727 before coming to look at a bike you see listed here.
Most of our bikes are built and ready for test rides, but some will require time for assembly. If you don't see a bike in our inventory, please contact us and we will order it!
Check out our quality pre-owned bikes at the bottom of page.
Inventory updated: 4.16.19
NEW BIKE INVENTORY 
KONA
2019 Blast, 27.5, Medium, Desert Tan, $999
2019 Blast, 27.5, Large, Desert Tan, $999
2019 Big Honzo, 27.5+, Medium, Midnight Blue, $2,399
2019 Big Honzo, 27.5+, Large, Midnight Blue, $2,399
2018 Dew, 55, Olive, $549 (2)
2019 Dew, 46, Matt Pine Green, $599
2019 Dew, 48, Matt Pine Green, $599
2019 Dew, 48, Mustard, $599
2019 Dew, 52, Matt Pine Green, $599
20199 Dew, 52, Mustard, $599
2019 Dew, 55, Matt Pine Green, $599
2019 Dew, 55, Mustard, $599 (2)
2019 Dew, 57, Mustard, $599
2019 Dew, 59, Matt Pine Green, $599
2019 Dew, 59, Mustard, $599
2019 Fire Mountain, 27.5, Medium, Blue, $699 (2)
2019 Fire Mountain, 27.5, Large, Seafoam, $699
2019 Fire Mountain, 27.5, Small, Seafoam, $699
2019 Hei Hei, 29, Medium, Green, $2,599
2019 Hei Hei, 29, Large, Green, $2,599
2019 Honzo ST 30th BDay SE #81 of 201, 29, Small, Chrome, $2,299
2019 Honzo ST 30th BDay SE #180 of 201, 29, Large, Chrome, $2,299
2018 Honzo CR Trail DL, 29, Medium, Aqua, Was $3,999, Now $2,999
2019 Honzo, 29, Large, Black, $1,499
2019 Lanai, 27.5, XSmall, Dark Silver, $599
2019 Lanai, 27.5, XSmall, Blue, $599
2019 Lanai, 27.5, Small, Dark Silver, $599
2019 Lanai, 27.5, Medium, Dark Silver, $599
2019 Lanai, 27.5, Medium, Blue, $599
2018 Lanai, 27.5, Small, Yellow, $549
2019 Lanai, 27.5, Small, Blue, $599
2019 Lanai, 27.5, X-Large, Blue $599
2017 Lava Dome, 29, Medium, Matte Yellow, $599
2019 Lava Dome, 29, Small, Black, $749
2019 Lava Dome, 29, Medium, Black, $749 (2)
2019 Lava Dome, 29, Medium, Red, $749 (2)
2019 Lava Dome, 29, Large, Black, $749 (2)
2019 Lava Dome, 29, Large, Red, $749
2019 Lava Dome, 29, X Large, Red, $749
2019 Libre, 51, Large, Deep Purple, $2,999
2017 Mahuna, 29, Small, Orange, Was $749, Now $630
2018 Mahuna, 29, Large, Dark Mint, $799
2019 Mahuna, 29, Medium, Green, $999 (2)
2019 Mahuna, 29, Large, Green, $999
2018 Makena, 20″, Green, $389- Boys
2018 Makena, 20″, Blue, $389- Girls
2017 Paddy Wagon, 61, Charcoal, $749
2018 Remote (eBike), Large, Green, Was $3,999, now $3,199
2018 Rove, 48, Black, was $849, now $721
2018 Rove, 52, Brown, was $849, now $721
2018 Rove NRB, 56, Green, was $1,699, now $1,444 
2018 Rove ST, 56, Matte Blue, $1,499
2019 Satori, 29, Large, Black, Was $2,399, now $2,299
2019 Kona Splice, Small, Matte Gray, $649
2019 Kona Splice, Medium, Matte Gray, $649
2019 Kona Splice, XLarge, Matte Gray, $649
2018 Sutra TA, 48, Blue, $1,499
2018 Sutra LTD, 52, Olive, was $2,099, now $1,889
2018 Sutra LTD, 54, Olive,was $2,099, now $1,889
2017 Unit Frame with P2 Fork, Large, Black/Orange, $549
2019 Unit, 27.5, Medium, $1,099
2019 Unit, 27.5, Large, $1,099
2017 Ute, Medium, Black, $1,499
2019 Wozo, Fat Bike, Large, Purple, $2,499
SANTA CRUZ
2019 5010 D+ Kit, Large, Matte Carbon, 27.5+, $2,699
2019 5010 D+ Kit, Medium, Purple, 27.5+, $2,699
2019 5010 C, S Kit, Small, Purple, 27.5+, $4,899
2019 Chameleon Carbon S Kit, 29, Large, Bronze, $3,799
2019 Chameleon D Kit, 29, Medium, Orange, $1,799
2019 Chameleon D Kit, 27.5, Small, Orange, $1,799
PIVOT
Trail 429 29V2, 29, Large, Red, XT/SLX Kit, $4,799
Trail 429 29V2, 29, Medium, Blue, XT/SLX Kit, $4,799
SURLY
2018 Pugsley Frame, Small, Black, $459
SALSA
2019 Timberjack, 27.5+, Medium, Teal, $1,249
2019 Timberjack, 27.5+, Small, Teal, $1,249
SE BIKES
2019 Kids Bronco, 16, Black, $189
2019 Kids Bronco, 20, Purple, $199 (2)
2019 Kids Bronco, 16, White, $189
2019 Kids Bronco, 16, Green, $189
2019 Kids Bronco, 12, Pink, $179
2019 Kids Bronco, 12, Blue, $179
2018 Draft Frame, 58, Light Blue, $219
2019 Draft, 49, Black, $279
2019 Draft, 49, Blue, $279
2019 Draft, 49, White, $279 (2)
2019 Draft, 52, Black, $279
2019 Draft, 52, White, $279
2019 Draft, 55, Black, $279 (2)
2019 Draft, 55, White, $279
2019 Draft, 55, Blue, $279
2019 Draft, 58, Black, $279 (2)
2019 Blocks Flyer, 26, Camouflage, $549 (2)
2019 Blocks Big Ripper, 29, Camouflage, $699
2019 Blocks Flyer, 29, Spring Green, $549
2018 Blocks Flyer, 24, Spring Green, $429
2018 Blocks Flyer, 26, Spring Green, $549
2018 Socal Flyer, 24, Spring Green, $429
2019 Everyday, 20, Blue, $419
2019 Widman, 20, Red, $389
ELECTRA
2018 Kids Hawaii 3i Cruiser Girl, 24, $479
2018 Cruiser 1 Girl, 24, Sparkle Cream, $275
2018 Cruiser 1 Ladies, 26, Cream, $275
2018 Cruiser 1 Ladies, 26, Light Blue, $275
2018 Cruiser 1 Ladies, 26, Neon Pink, $275 (2)
2018 Cruiser 1 Ladies, 26, Pink, $275
2018 Cruiser 1 Ladies, 26, Spring Green, $275
2017 Cruiser 1 Ladies, 26, Jade, $269
2017 Cruiser 1 Ladies, 26, Neon Pink, $269
2017 Cruiser 1 Ladies, 26, Pearl White, $269
2017 Cruiser 1 Ladies, 26, Sun Yellow, $269
FUJI
2019 Absolute 2.1, 15, White, $489
2019 Absolute 2.1, 17, White, $489 (2)
2019 Absolute 2.1, 17, Blue, $489
2019 Absolute 2.1, 21, Blue, $489
2019 Cambridge, 43, Lavender,$279
2019 Crosstown 2.3, 17, Deep Navy, $429
2019 Crosstown 2.3, 21, Deep Navy, $429
2019 League, 17, Sky Blue, $479
2019 League, 19, Sky Blue, $479
2019 Regis, 19, Black, $479
2019 Regis, 21, Black, $479
2019 Sagres, 43, Black, $279 (2)
2019 Sagres, 48, Black, $279 (2)
2019 Sagres, 48, Forest Green, $279
2019 Sagres, 53, Black, $279 (53)
SUN
2017 Sun Atlas-CB, Safety Yellow, $349 (2)
2018 Traditional Trike, 24, Blue Metallic, $439
QUALITY PRE-OWNED BIKE INVENTORY 
2014 Felt F75, 54, Alum, Carbon Fork, Black, $850
2017 Sutra LTD (Upgraded), 54, Deep Red, $1,999